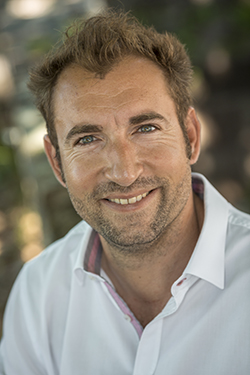 Vincent Euzet was born in 1978 in the south of France. Born into a family of winemakers in Pic Saint Loup, just North of Montpellier, he grew up surrounded by vineyards, discovering the art of winemaking from a very young age. Unsurprisingly, Vincent developed a passion for wine and pursued studies in winemaking, graduating from Faculté de Pharmacie Montpellier with a National Diploma in Oenology. He later earned his Master's degree in Wine Industry Business & Marketing from Faculté d'Economie Montpellier.
As a student, Vincent completed a series of internships at Cave de Berlou in Saint Chinian, the Cave Anne de Joyeuse in Limoux, and the Cave Rozes à Routier. He also ventured overseas to South Africa where he gained invaluable experience by working at the Domains Vrede en Lust.
In 2008, after four years as a technical manager at the Cave de Conronsec (Hérault), he joined the team at Les Grands Chais de France, where he is now the proud craftsman behind Fleurs de Prairie.
Today, at 40 years old, Vincent enjoys remarkable success in his career and as a proud husband and father of two children.